Professional web design is NOT as expensive as you might think.
Despite our enormous experience level building websites, we know that no one wants to spend gobs of money on their website. Gone are the days when website development was truly a super-specialized task that involved a lot of very difficult, obscure coding. Nowadays there are all kinds of do-it-yourself web builder tools, various CMS Systems like WordPress and plenty of "Build-Your-Own-Website"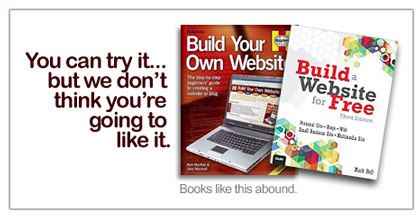 software titles available. Up until just a few years ago, none of these solutions existed.
So we know that there are plenty of relatively simple ways nowadays to get your web presence up and running. A few of them are actually free, with an agreement to pay a monthly amount for a specific period of time. Some are as low as $99. We can't compete with these types of website solutions, and we don't want to. That's not our market. We are professional, experienced, craftspeople and we started building our first sites in the year 1997. And we have been creating and launching them ever since.
You can certainly try to build a site yourself, in fact, we encourage you to do so. You may not need us. What we are looking for
are those clients who have a great idea and want to get a new site off the ground and not waste time learning. Those who have had a site running for years but never really understood how to change or update it. Those who have an existing site that suddenly doesn't work very well because all the customers are using mobile devices to access it. We are professionals and we love to work WITH you to upgrade or redesign your site, and to then teach you how to use it. Our sites come with built-in content management which means you have unlimited potential for updating the site yourself once it is launched. We show you the ropes and then set you free. And if you ever need help or have a question, we're there with just a phone call or email.
If you have been thinking about updating your site, give us a call and we can explain how inexpensive it may be to do just that.
We specialize in mobile-friendly, people-friendly websites. And it's not as costly as you might think.